X'Mas Chihuahua 是容祖兒的第二張單曲,於2004年12月15日發行,以AVCD形式發行,迎接聖誕。"Chihuahua"亦是可口可樂的廣告主題曲,大受歡迎。
X'Mas Chihuahua is Joey Yung's second single, released on December 15th, 2004. It was released as AVCD format and welcoming the Christmas. "Chihuahua" is also the commercial song for Coca-Cola, which was very popular.










Released versions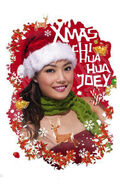 Released as AVCD;
Included "Chihuahua" and its music video;
Coupons, a phone strap and a X'Mas card included.
Track list
TRACK LIST
TITLE
LENGTH
1.
"Computer data"  
 
2.
"Chihuahua" (Music Video)
03:18
3.
"Chihuahua"  
03:07
Joey Yung Wiki
Certifications
Single
Song
| Song | Approx. Date | 903 | RTHK | 997 | TVB |
| --- | --- | --- | --- | --- | --- |
| "Chihuahua" | 26/12/2004 | 18 | 7 | 10 | 1 |
Credits
Executive Producer: Ng Yu
A&R: Leo Chan / David Chow / Kwan Lee Sum
Marketing & Media Planning: Roy 2 / Ewin Lee
Artiste Management: Mani Fok, Oscar Cheung, Ada Wong, Sandy Wai
Artiste Promotion: (Radio) Larry Lau / Leung Ka Ho (TV) Raymond Ho / Sammy Fung (Press) Purple Ho
CD Mastering: Anthony Yeung at air studio
Creative & Post Production: James Lam, Carmen Wu, Wing Hung
EEG Artiste Management Division (Tel: 2835 6688)
Graphix: Graphix Red