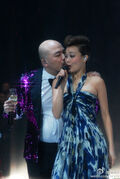 Wyman Wong (黃偉文, born in May 21) is a famous lyricist who has written song for Joey Yung for a long time. They are also good friends. Wyman will give advice to Joey's costumes. They always hang out to buy clothes. In 2011, Joey has performed in every show of Wyman's conert.
Before being a lyricist, Wyman has been a radio DJ. After his greaest hits, he has always been compared to Albert Leung. His first song cooperated with Joey is "Pain Love", which received great response from public. Wyman also worked as a song producer in songs in 2014.
Work with Joey
Songs
Album
Composer
Producer
2001
痛愛 Pain Love
Love Joey
Keith Chan
故弄玄虛 Deliberate Confusion
All Summer Holiday
Dennie Wong
Dennie Wong,
Schumann
隆重登場 Grand on Stage
Grand on Stage
C.Y. Kong
Stanley Yeung
R U READY 4 ME?
Schumann
2002
一面之緣 Nodding Acquaintance
Something About You
Lau Cho Tak
Wong Kee Wah,
Lau Cho Tak,
Terry Chan
早有預謀 Premeditation
Ronald Ng
電我 Phone Me
Love Joey Love 2
Schumann
2003
心淡 Disheartened
My Pride
Jone Chui
Schumann,
Leo Chan
Honey!
Eric Kwok
我的驕傲 My Pride
Chan Kwong-wing
Show Up! (Cantonese)
Show Up!
Clayton Cheung
Schumann
派對機器 Party Machine
C.Y. Kong
遲鈍 Obtuseness
Dennie Wong
2004
夢路 Dreamroad
Nin9 2 5ive
Jeremy Olivier,
Brice Scorticati,
Thierry Samoy
Schumann
最後勝利 Final Victory
Josef Tse
借過 Excuse Me
Dennie Wong
Dennie Wong,
Schumann
世上只有 Only You in the World
Chan Kwong-wing
16號愛人 16th Lover
Give Love A Break
Janet Yung
Schumann
紅牌出場 Penalty Card
林麗珍
分身術 Spliting Bodies
Jone Chui
男朋友與歌 Boyfriends And Songs
Keith Chan
心病 Secret Trouble
BC, 龔煥榮,
Kevin Tsang
Schumann,
Leo Chan
Chihuahua
X'Mas Chihuahua
Ray Gilbert,
Louis Oliveira,
Rene Baumann,
Axel Breitung
Schumann
2005
刻不容緩 Cannot Delay (w/ Hacken Lee)
Love Joey Love 3
Ronald Ng
明日恩典 Tomorrow's Grace
Schumann
Schumann
呼天不應 Unanswered Cries to Heaven
Ivana Wong
好事多為 Pointless Doing
Bi-Heart
Stuart Crichton,
Andy Love
還未 Not Yet
Vicky Fung
2006
流淚眼望流淚眼 Tears vs Tears
Ten Most Wanted
Harry Ng
Schumann
最後的茱麗葉 The Last Juliet
Kenix Cheang
情歌的情歌 Love Song of the Love Songs
James Ting
華麗邂逅 Beautiful Encounter
Close Up
Eric Kwok
黃色大門 The Big Yellow Door
Carl Wong
2007
螢 Glow
Glow
Edmond Tsang
Carl Wong
逃 Runaway
Hanjin Tan
Lucky Star
Love Joey Love Four
2008
跑步機上 On running machine
In Motion
Carl Wong
28個我 28 of Me
何山
Carl Wong
2009
雙冠軍 Double Champion
Joey Ten
廖卓瑩
Alvin Leong
桃色冒險 Peach Adventure
Carl Wong
2010
一直看見天使 Always Seeing the Angels
Joey Ten
Carl Wong
世界小姐 Miss World
Endy Chow
Schumann
空港 Airport
Airport
Skot Suyama,
Terrytyelee
破相 Disfigured
Keith Chan
綠野仙踪 Wizard of Oz
Hanjin Tan
2011
13點 Thirteenth o'clock
Joey & Joey
Kelvin Ngai
Schumann
花千樹 Forest of Flowers
Matthew Tisher,
Andrew Ang
牆紙 Wallpaper
Khalil Fong
Edward Chan,
Charles Lee
2012
充電器 Charger
Little Day
Chan Kwong-wing
2013
天窗 Skylights
Little Day
Pakho Chau
Alex Fung
另眼相看 View in a New Light
Alex Fung
小日子 Little Day
布穀鳥大反擊 Counterattack of the Cuckoo
Chan Kwong-wing
2014
天然呆 Natural Awkwardness
Me, Re-Do
Janet Yung
Wyman Wong,
Harris Ho
樂觀 Optimism
Mayumi Itsuwa
Wyman Wong,
Harris Ho,
Schumann
2015
這麼近那麼遠 This Close, That Far
Me, Re-Do
Jackie Cheung
Alex Fung
飄紅 Rosy
Janet Yung
世界真細小 The World is Really Small
C.Y. Kong,
Jean Chien
C.Y. Kong
2016
我好得閒 Available
J-POP
Yuta, Iki
Yuta, Iki,
Alex Fung
無人知道雙子座 Nobody Knows a Gemini
Cousin Fung
Alex Fung
2018
心之科學 Science of Heart
Howie Yung,
Terence Lam
Schumann
亞亞亞 First Runner-Up
Searching for Answers
Alex Fung
Chang Shilei,
Alex Fung
2019
Pretty Crazy
Beatrappa
悲觀生物學 Pessimistic Biology
Ronald Ng
Community content is available under
CC-BY-SA
unless otherwise noted.