"The Kite that Chase Kites" (追風箏的風箏) is the eleventh and bonus track of Joey Yung's seventh Mandarin album, Moment.
The song was a duet with Mag Lam, another main actress in the movie "Diva", and a promotional song for the movie. Hence, the song was also included in a digital EP of promotional songs of "Diva", exclusively sold in iTunes, on August 14, 2012.
The song was exclusively plugged to TVB, and peaked at number 2, since the duo could not show up in JSG.
Lyrics
M: Mag Lam J: Joey Yung
(M) 努力要是有獎 獎我半個襟章
再讓我可 睡到熱汗涼
(J) 讚譽要是有獎 獎我愛過的歡暢
能被了解 我堅毅而又脆弱

(M) 哪有十全十美 有哪樣能捨棄
(J) 不惜一切跌傷 站得起也牽強
(M) 最怕最後理想付完代價
換來結果不是我想

(J) 只想 我只想扮渺小
(T) 任身心多麼堅壯都想偶然 (M) 可撒嬌
(J) 為誰 令自己的包袱太大
這雙手畢竟這麼小
(M) 令我失去我的不要
(J) 唯有我快樂犧牲 不了

(J) 心比天際還高 所以會看不到
披風擋雨 獨個地自豪
(M) 為何終於得到 總有償還的苦惱
能力再高哪表示能被愛慕

(M) 哪有十全十美 有哪樣能捨棄
(M) 不惜一切跌傷 (J) 站得起也牽強
(M) 最怕最後理想付完代價
換來結果不是我想

(J) 啦啦啦啦啦扮渺小
(T) 在追風箏都想似風箏那樣 (M) 飄啊飄
(J) 啦啦啦啦啦啦包袱太大
這雙手畢竟這麼小
(M) 令我失去我的不要
(J) 唯有我快樂犧牲 不了

(J) 啦啦啦啦啦扮渺小
(T) 在追風箏都想似風箏那樣 (M) 飄啊飄
(J) 啦啦啦啦啦啦包袱太大
(M) 這雙手雖則這麼小
(J) 亦夠擁抱我所需要
Music Video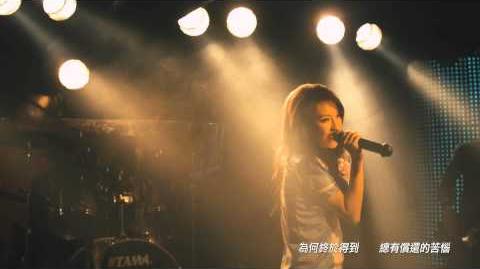 Certifications
Charts
| Song | Approx. Date | 903 | RTHK | 997 | TVB |
| --- | --- | --- | --- | --- | --- |
| 追風箏的風箏 The Kite that Chase Kites | 01/09/2012 | --- | --- | --- | 2 |
Credits
Music
All Synths, Keyboards, Programming & Tweaks: C. Y.
Drums: Davy Chan
Bass: Bass Kit 何俊傑
Guitars: Yin Wong 黃仲賢
Personnel
Drums, Guitars & Bass recorded at aroom studio, HK, engineered by Davy Chan, Ken Au
Synths recorded at seewisehk, engineered by C. Y.
Vocals recorded at Avon Recording Studios, engineered and digital editing by Amic Tang
Mixed by Davy Chan at aroom studio, HK
Publishing
OP: EMI Music Publishing Hong Kong / See Wise Production Ltd. (SP: Tonic Music Ltd. admin by EMI Music Publishing Hong Kong) / Denseline Co Ltd admin by EMI Music Publishing Hong Kong
Reference