Ten Most Wanted 是容祖兒的第十張個人廣東專輯,於2006年2月27日發行。此大碟打破祖兒一貫風格,請來范曉萱、翁瑋盈、徐繼宗等作曲人參與,其中范曉萱更首次為祖兒創作了兩首歌曲,包括"跟珍芳達做健身操"和"舌尖開叉"。祖兒在此大碟也嘗試了多種不同曲風,如"堂堂男人"的Jazz、"赤地雪"的J-pop、"上次坐飛機"的Bossanova等,和她一向「K后」的風格大大相反,這次轉變普遍獲得大眾接受和喜愛。
Ten Most Wanted is Joey Yung's tenth full length studio Cantonese album, released on 27th February 2006. It appears as a breakthrough in Joey's discography not only in the glamorous cover design but also in the varied music style in the CD. The CD was produced in the period of her concert, Sony Ericsson Reflection of Joey's Live 2005. After the concert, Joey had a vocal cord strain. Consequently, more time is spent producing this CD compared with Joey's previous CDs so as to let Joey to have a relax for her vocal cord. This allows more room for trying new style of the CD cover design and trying new music styles. Notably, Joey invited Mavis Fan, a renowned Taiwan singer, songwriter and song producer, to compose two songs, "Get Fit with Jane Fonda" and "Torned Tongue", in her CD. Both songs are rather funky and experimental compared with Joey's songs in her previous CDs. Apart from the two songs, Joey tried other music style, like jazz in "Real Man", J-pop-style in "Red Snow" and bossanova in "Last Flight". It appears that the new styles are well-liked by the public.
Album etymology
It was said that the ten songs in Ten Most Wanted represent ten things that Joey wants. "Treasure Island" represents money that Joey wants, while second track "Modern Times" represents the need of communication. The third track "Real Man" shows the need of lovers and "Red Snow" reveals kind of reborn. "Get Fit with Jane Fonda" represents need of health, while the sixth track "Tears vs Tears" shows need of self-release. Follow up "Torned Tongue" shows need of debauchery and "Last Flight" means need of travlling. Last two tracks, "The Last Juliet" and "Hibernation", represent bravery and rest.
Released versions
First edition
CD, a photo album and coupons included;
special player programme starts automatically when the disc is put into computer.
Second edition
Released on 17th May, 2006;
Different cover and packaging;
Bonus CD included 3 new songs;
DVD included 4 music videos.
UMD version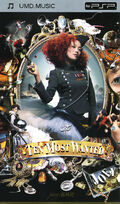 Released on 17th May, 2006;
Joey is the first Asian singer to release UMD album for PSP;
Included Joey Puzzle Game for PSP;
13 tracks, 4 music videos plus making of Ten Most Wanted included.
Reissued version

Released on November 6, 2013;
Only included 13 tracks.
Certifications
Album
IFPI Hong Kong Record Sales Awards

2006 - Top Ten Selling Cantonese Albums
Songs
For more awards received, please visit individual song page.
Images
Credits
Executive Producer:

Ng Yu

/ Johnson Lam


Marketing & Media Planning: Roy Kwong/ Ewin Lee
A&R: Leo Chan/ Leong Shek Chi/ Ronnie Ng/ Liu Chi Wah
Artiste Promotion: Larry Lau/ Purple Ho/ Sammy Fung/ Maggie Tse/ So Kin Pong
Artiste Management: Mani Fok/ Oscar Cheung/ Ada Wong/ Sandy Wai
Post Production: James Lam/ Carmen Wu/ Isbelle Chu
EEG Artiste management Division (Tel: 2835 6688)


CD Mastering: Anthony Yeung at Air Studio


Art Direction: Matt (graphixred)
Styling: Adele Leung
Photographer: Sam Wong
Object Still Shot: Danny Chiu (photocomma)
Hair: Billy Choi (Hair Culture)
Makeup: Arris Law
Props Consultant: Chenmiji
Special thanks to Boardway Electronics, LUX, Just*diamond, DTC, Hair Culture, Atebier, Marcasite