Show Up! 是容祖兒的Neway Joey Yung Live Show Up! 的主題大碟,於2003年9月30日發行。主打歌曲《Show Up!》 成功為祖兒轉型,由鄰家女孩的形象成為又跳又唱的歌手。其它碟內歌曲有《出賣》 、《想得太遠》 和與藝人郭晉安合唱的《會很美》 。
Show Up! is Joey Yung's sixth Cantonese full length studio album, released on 30th September, 2003. The main track of this album, "Show Up!" is also the theme song for Joey's third solo concert and second concert series, Neway Joey Yung Live Show Up!, which spanned six nights at the famous Hong Kong Coliseum. The choreography for the "Show Up!" music video had Joey dance more powerful and complicated moves than before, and set a new standard of dancing for Joey. While Joey had not yet established an image of being an exceptional dancer, it was a big improvement compared to her past performances and lead Joey to a whole new direction in performing. However, this album and concert did give Joey a new "sexier" image, which seemed a bit controversial for fans at first but definitely helped prepare a path for her as Hong Kong's newest pop queen. Other songs in the album included "Betrayal" , "Thinking Too Much" and "Becoming Beautiful" with artist Roger Kwok.
Release versions
Special edition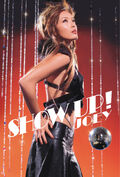 Normal edition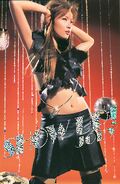 A smaller package;
a different cover.
Reissued version

Released on 30th May, 2007.
Certifications
Album
| | |
| --- | --- |
| Show Up! | Platinum (> 21,000) |
Songs
For more awards received, please visit individual page.
Images
Credits
Community content is available under
CC-BY-SA
unless otherwise noted.