Runaway (逃) is the first track and first plug off Joey Yung's Cantonese album, Glow. It was also used as TV commercial theme song of Broadway Electronic. This song brought many awards and praise from the public. Joey once described the song as part of herself also. The choreography of this song is the iconic 45-degree tilt and it has evolved to many different versions, performed on StarLight and Number 6. An rearranged version was also performed on Joey Yung Perfect 10 Live 2009.
"
2007年,我的事業好像到了樽頸位置,我多麼的渴望聽眾能夠看得見我正在努力鞭策自己,要更進步-是一種要大家一聽到一看到便知道的進步,讓觀眾有眼前一亮的感覺!

收到這一首歌之後,可以說,我花了九牛二虎之力要把它唱好,也要大家重新認識舞台上的容祖兒,所以我特別到美國學跳舞。這一首歌配合努力練習的舞蹈,是一首充滿舞台感的歌,可以成為任何一個演出,甚至一個演唱會的骨幹。在這首歌以後,有更多人認同我是一個舞台的表演者。作為歌手,我曾經多希望擁有一些有代表性的舞蹈,現在我得到了!

"

—Joey in Perfect 10 booklet
Music Video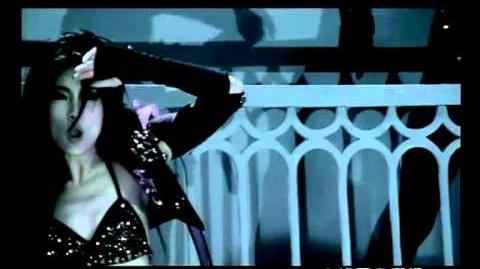 Lyrics
攝氏四十八度 跳著野蠻的舞
祭祀那樣舞蹈 企圖以後不老
進入秘密國度 (永恆國度)

我都已經豁出去 忘掉置身哪裡
除下宿命的規舉 縱容著我的原罪

腳下舞池化做了霧 身畔的人影在起泡
記住這段法術舞步 一路跨入虛幻裡
不想再做女奴 旁人話好都不要做
是我不想再被駕駑
逃亡潛伏到 光的領土 (我的領土 領土)

*我都已經豁出去 忘掉置身哪裡
除下宿命的規舉 誰要人類讚許
跳高跳低跳出去 逃入妄想哪裡
遊蕩一夜不歸隊 縱容著我的原罪*

坐定坐定那樣要命 不如起立出來火拚
這段舞就是革命 這個宇宙我是煞星

難怪天黑那時 亮了眼睛
難怪出一晚汗 才能盡慶
連恤衫都透明 頭頂彷彿有星
誰稀罕過安定 (怕熱 怕悶 怕焗 怕靜)

REPEAT*

我不再身處這裡 存在已不有趣
情願拋下這身軀 騎劫逃脫工具
跳高跳低跳出去 逃入妄想哪裡
前度的士高之女 已在那一邊甜睡
Certifications
Charts
| Song | Approx. Date | 903 | RTHK | 997 | TVB |
| --- | --- | --- | --- | --- | --- |
| 逃 Runaway | 28/07/2007 | 1 | 2 | 1 | 1 |
Awards
Music & Personnel

Produced, Arranged, Mixed and recorded by: Hanjin Tan for The Invisible Men at The Invisible Studios, Hong Kong
Backing vocals by: Joey Yung

Publishing

OP: Clot Media Division Ltd.
SP: Warner/Chappell Music, HK Ltd./ Wyman admin by EMI Music Publishing Hong Kong
Community content is available under
CC-BY-SA
unless otherwise noted.