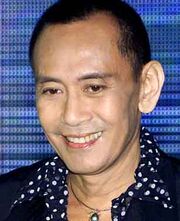 Roman Tam
Roman Tam known as his stage name Lo Man nickname Law kee (16 February 1950-18 October 2002) was a renowed Hong Kong Cantopop.He is regarded as the "Godfather of Cantopop".
Roman Tam Career
Tam was seen as a cultural icon to Chinese communities around the world (including Taiwan, Hong Kong, Singapore and, later Mainland China). He had a string of hits in a career spanning 30 years. He was well respected for his singing skills, his positive outlooks, and his insistence on correct pronunciations. He was also groundbreaking for being the first major Hong Kong singer to pose in drag and to pose in nude.
Born in Guangzhou, China with family roots in Guiping, Guangxi, he later immigrated to Hong Kong in 1962 at the age of 12. After forming a short-lived band known as Roman and the Four Steps,[[|[2]]] he became a contract singer under studios term at Television Broadcasts Limited. He briefly switched to Asia Television Ltd in the early 1990s.
During the 1990s he accepted many budding singers as his students. Some of which who became famous included Joey Yung and Ekin Cheng. He had sang many well known songs for various TV series including Below the Lion Rock and the 1982 TVB TV series The Legend of the Condor Heroes.
Tam was unmarried. He died in Hong Kong at Queen Mary Hospital from liver cancer. The title of "Godfather of Cantopop" was confirmed in his obituary.
Community content is available under
CC-BY-SA
unless otherwise noted.