Nokia Joey Yung Concert Number 6 (N6) is Joey Yung's seventh major concert at the Hong Kong Coliseum and sixth major solo concert, named after Joey's favourite number. The theme of this concert is "Airport" (from the EP, Airport), and was suggested by lyricist-fashion enthusiast Wyman Wong (who also acted as a wardrobe advisor for the concert). The idea was that the Hong Kong Coliseum would be Joey's "airport", which she would land on when the concert series starts.
Background
The concert name was suggested by fellow singer and good friend Eason Chan, it was decided that the concert would be named after the number 6 for several reasons. First of all Joey's birthday is on June 16th (6.16), hence it is her favourite number (Joey also cited that she likes how the number looks). For the same reason, the number 6 can be found a lot in her personal cell phone number, for her license plates (JY616 and JY6), and is also used as the official name of her fan club, also called "JY6". Most importantly, this concert series is her sixth major solo concert at the Hong Kong Coliseum.
The production team for this concert was the same as her previous StarLight series, as are the dancers and the music director, Carl Wong. The costumes worn by Joey included both outfits created by costume designer Kenneth Chan, and outfits sponsored by globally renown fashion designers/labels Yves Saint Laurent, Manish Arora, Chanel, and Iris Van Herpen. For the concert merchandise, specially designed travel kits were sold reflecting the airport theme. The production team also invited Swedish designer Emeli Martensson of 5preview to design concert tees for the shows.
Influence
The concert series was considered a major success, gaining popular and critical acclaim from fans, the media, DJs, and fellow entertainers alike. While tickets did not sell out as fast as expected, partly due to increased competition by other first-tier singers holding concerts around the same time, sales were consistent and strong. Due to popular demand, additional shows would be added six times totalling 8 additional shows to the original 4 dates for a total of 12 shows. During the 2010 Ultimate Song Chart Awards Presentation, DJ Donald said before presenting the Best Female Singer Gold to Joey, "Many people felt that her StarLight concert had reached mankind's limit. But this year, she was somehow able to give us an even more amazing concert." This concert series is also the most number of shows ever performed by Joey at the Hong Kong Coliseum for a single concert series (not including StarLight's Part 2).
Promotion
Posters
The posters are changed due to addtional of shows.
Television commercial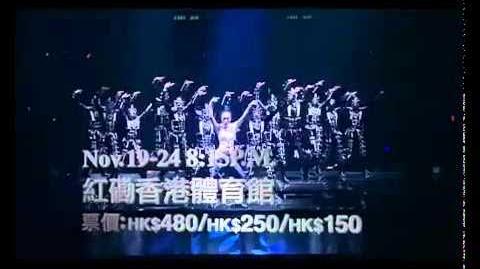 Community content is available under
CC-BY-SA
unless otherwise noted.