Moment是容祖兒第三十張個人唱片;第七張國語專輯,是繼"很忙"之後相隔三年的大碟。香港版於2012年7月18日推出,而台灣版於2012年7月25日公開發售。該專輯由2011年已開始籌備,並邀得不少著名的台灣音樂人參與創作,如王治平、黃韻玲、陳小霞、蔡健雅以及吳青峰等。時隔六年,該專輯再次在台灣發行。
碟內首隻宣傳主打《正好》於5月6日正式在香港派台,並為她帶來首隻903專業推介及新城勁爆榜國語冠軍歌。此後另外4首歌曲亦陸續發布,分別為《霧裏看花》、《活該》、《不好意思我愛你》及《維加斯有點好萊塢》,《加大力度》是專輯第三主打;《追風箏的風箏》是首次與林欣彤合唱。
Moment is the seventh Mandarin album released by Joey Yung, 3 years after "Very Busy", and 6 years for releasing the album in Taiwan. It was released on July 18th, 2012, in Hong Kong; July 25th, 2012, in Taiwan. The album has invited a lot of new composers and producers, like Kay Huang, Tanya Chua and Wu Tsing-Fong.
The first plugged single of the album is "Right Time", which got great responses from the public, becoming the first Mandarin song charted no.1 in 903 andd received awards. Several songs were released for promotion before the release of the album, like "Vegas is Somewhat Hollywood", "Deserved" and "Excuse Me, I Love You". Later "Smoke and Mirrors" was released as the second single. Then "Greater Vigor" was chosen for the third plug. "The Kite that Chase Kites" was the first duet between Joey and Mag Lam, and was used for the third single in TVB.
Released versions
Hong Kong edition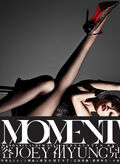 2 Mini-posters, Moov.hk one month free trial password,
"Diva" promotional stickers included;
11-track CD + 2-music-video DVD.
iTunes EP

Only available on iTunes;
Released before the official album.
Taiwan edition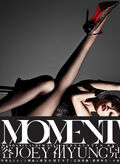 1 Mini-poster;
11-track CD + 2-music-video DVD.
Second edition

Certifications
Album
Songs
For more awards received, please visit individual song page.
Images
Credits
Executive Producers: Ng Yu / Mani Fok  · Marketing and Promotion Director: Ivy Lin
Marketing & Promotion Department (EEG HK): Marketing & Media Planning: Douglas Chang  · Artiste Promotion (EEG HK): Martin Cheng / Purple Ho / Maggie Tse / Alan Chim / Nicole Lee  · Artiste Management (EEG HK): Mani Fok / Oscar Cheung / Matthew Lo / Sandy Wai  · Digital Entertainment Department (EEG HK): Methy Chi / Kin So / Bonnie Lee / O Leung  · A & R Department: Leo Chan / Leong Shek Chi / Liu Chi Wah / Gordan Tsui  · Regional Marketing Promotion Department (EEG HK): Ruby Chan  · Creative & Post - Production (EEG HK): James Lam / Cecilia Kwan / Gaga Wong
CD Mastering Engineer: Tom Coyne@Sterling Sound, NYC  · Sequenced and PMCD: Ar Wil & 肥丘 @Zoo Music Studio
Art direction: SK LAM @AllRightsReserved
Make-up Artist: Arris Law
Styling: RickySham
Wardrobe: Lane Crawford & OnPedder (Alexander McQueen showpiece & suit), Christian Louboutin

Photography direction: Chen Ma
Hair Stylist: Jimmy Chan @Hair Culture
Graphic design: Kenneth Wong @AllRightsReserved
Proofread: Ashley @AllRightsReserved
Copywriter: Monica
Special Thanks: China Mobile  · [t.qq.com]  · QQ Music  · WeChat  · MOOV
Community content is available under
CC-BY-SA
unless otherwise noted.