Me, Re-Do是容祖兒繼小日子之後的一張廣東EP,亦是她個人的第五張廣東EP,在2015年4月9日發行。在1314演唱會後,祖兒稍作休息,並於2014年中開始此專輯的錄音過程,可是經過多次歌曲篩選,以及遷就每首歌曲的宣傳期,專輯最終推遲到2015年才正式發行。
此EP收錄了兩首四台冠軍歌《天然呆》、《這麼近那麼遠》,三台冠軍歌《飄紅》,以及兩台冠軍歌《樂觀》,成績斐然。專輯內四首歌皆由好友黃偉文填詞。
Me, Re-Do (stylized in all lower-case) is an Cantonese extended play by Joey Yung, released on April 9, 2015. The fifth solo EP is Joey's first album release after taking a long rest from Concert 1314. Starting from the mid 2014, the recording process lasted about 8 months, so as to choose the most suitable songs on the EP, and to promote every song of it. Eventually the EP was released in 2015.
This record performed outrageously well in general, this includes two 4 media no.1 plugs "Natural Awkwardness", "This Close, That Far", one 3 media no.1 plug, "Rosy" and one 2 media no.1 plugs "Optimism". All four songs in the album was written by Wyman Wong.
Album concept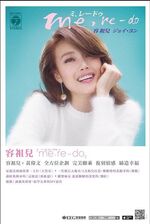 From Wyman Wong's Instagram post[1], the album hid a message of "marriage blessings", which Joey was "married" to music. The EP includes essentials of a bride. Mayumi Itsuwa and Petrina Fung stand for 'something old'; Janet Yung stands for 'something new'; blue background on the cover stands for 'something blue'; and "This Close, That Far" stands for 'something borrowed'. Matching the album concept, a photo-shoot of Joey wearing wedding dress was also shot.
The album cover is a tribute to Japanese single covers in the 80s.
Plugs History
The first plug off the EP, "Natural Awkwardness", was released on September 2014. The song has a fresh style and a new theme, comparing to the past songs that Joey was known for. Its music video, which contains footage of Joey's trip in London, was fully directed and edited by Joey herself. It finally received four number 1s in all major media in Hong Kong.
"Optimism" was served as the second plug. The song features famous Japanese artist Mayumi Itsuwa as the composer, and was released on November 2014. It was positioned 4th of Ultimate Top Ten Songs in the 2014 Ultimate Song Chart Awards Presentation. The JP Huang directed music video was shot in Taiwan.
The Jackie Cheung cover, "This Close, That Far" became the third plug in January 2015. The song received great response from the public and critics. Originally the music video was filmed during the American stops of Concert 1314, but another version was shot later in February.
The fourth and final plug "Rosy", plus its music video, were released at the same day with the EP.
Track listing
Physical edition

Included a bonus DVD;
With a mini poster inside.
Digital edition

Excludes the bonus DVD[2]
iTunes Deluxe

Includes karaoke versions of the songs in the EP as bonus tracks[3].
Certificatons
Album
Songs
For more awards received, please visit individual song page.
Images
Credits
Marketing & Media Planning: Douglas Chang
Artiste Promotion: Purple Ho / Wong Chi Wai / Maggie Tse / Dore Fong / Irene Leung / Louis Chan
Artiste Management: Mani Fok / Sally Lum / Matthew Lo / Sandy Wai
A & R: Leo Chan / Liu Chi Wah / Gordan Tsui / Homond Tang
Digital Entertainment Department: Methy Chi / Bonnie Lee / Nancy Tang / Masaki Heung / Erica Lau / Alex Tsang
Post-production: James Lam / Cecilia Kwan / Diz Law
CD Mastering by: Sung Ka Hang@Zoo Music Studio
Creative Director: Wyman Wong
Photography: Ann Woo Photography
Album Design: Tse Chiu Yan@Cardinal Points
Hair Stylist: Heibie Mok@Hair Culture
Make-up: Arris Law
Florist: Liana Floral Couture
Special Thanks: Bridal Veil by Lanvin
References
Community content is available under
CC-BY-SA
unless otherwise noted.