Jump Up (9492) 是容祖兒的第四張個人國語專輯,繼上一張國語專輯《獨照》三年後,於2006年7月21日發行。"9492"於國語中代表"就是祖兒",而專輯照片都呼應標題"Jump Up",祖兒盡情跳舞。是次祖兒首次而雙封面發行,亦是首次推出第二版的國語專輯。碟內歌曲《愛情復興》、《別說愛我》都大受歡迎;歌曲《飆汗》更是首次與小豬羅志祥合唱,亦於多次公開表演;碟內重點是多首由著名廣東歌曲改編的國語歌曲,包括《心淡》改編的《棄權》、《跟珍芳達做健身操》改編的《Funky Underground》、《舌尖開叉》改編的《極端愛我》、《啜泣》改編的《隱形情人》和《情歌的情歌》改編的《用一千雙手臂擁抱你》。
Jump Up (9492) is Joey Yung's fourth Mandarin album, released after 3 years of last mandarin album, Lonely Portrait, on July 21st, 2006. "9492" in Mandarin means "It's Joey", the photoshoot of the album also featured Joey dancing and jumping enjoyably. Joey first released the album in double covers, also the first Mandarin album released second edition. The plug songs, "Love Revival", "Don't Say Love Me" were welcomed by the public. "Perspiring" was the first duet of Joey and Show Luo, and performed several times live. The songs in the album are mostly adapted from some popular Cantonese songs, including "Gave Up" from "Disheartened"; "Funky Underground" from "Get Fit with Jane Fonda"; "Extremely Love Me" from "Torned Tougue"; "Invisible Lover" from "Sob" and "Thousand Arms Hugging You" from "Love Song of the Love Songs".
Released versions
First edition
Released on July 21st, 2006;
Double covers.
Second edition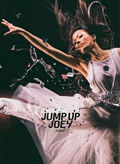 Released on September 5th, 2006;
Double covers;
Different covers;
Bonus DVD with 3 music videos.
Certifications
Album
Songs
For more awards received, please visit individual song page.
Images
Credits
Executive Director: Ng Yu
Executive Producer: Johnson Lam
A&R Project Director: Ivy Lin
A&R Coordinator: Hans Lee
Mastering Producer: Hans Lee
Mastering Engineer: Maggie Chan
Mastering Studio:' Sonic Boom Mastering Studio
Project Director: Sting Chang
Marketing Planner: Alfred Wang
Project Coordinator: Vivian Cheng
Art Director: Matt (graphixred)
Photography: CK
Image Styling: Adele Leung
Accessory: Ceci Cheng
Make Up: Arris Law
Hair Styling: Billy Choi (Hair Culture)
For detailed credits, please refer to album booklet.