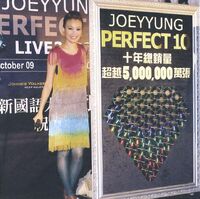 JoeyTen 10th Anniversary Project is a project on 2009 to 2010 to celebrate the 10th anniversary of Joey Yung's singer career since the release of her first album, EP1 on 29th September, 1999. Joey and her company, EEG has released three albums and held one memorable concert for her fans.
A Time For Us
Main article: A Time For Us (album)
A Time For Us is Joey Yung's fourteenth personal cantonese studio album, released on 30th April, 2009. It was the first album of the project. Joey revealed that she was going to release an EP originally. However, her label was hoping for an album as the promotional fee was the same of an album or an EP, so this album was delayed. The plug songs of the album also got great response from the public.
On 5th June, 2009, the second edition of the album was released with differnet cover, more music videos included.
Very Busy
Main article: 很忙 Very Busy (album)
The album was the only Mandarin album of the project, also the sixth Mandarin album of Joey, released on 14th August, 2009. For the album Joey collaborated with a number of famous Mandopop musicians that she has never worked with before. Before the album was released ,eight out of the ten songs were performed (and heard for the first time) live in July at Joey's first MOOV Live Session which was recorded and included in the album.
Perfect 10 Live
Main article: Joey Yung Perfect 10 Live 2009
The live concert was held at the Hong Kong Cultural Centre on October 9, 2009. Joey performed some of her best-loved hits over the last ten years, tracing the ups and downs of her career. The live recording was released in several format as a celebration of the 10th anniversary.
Joey Ten
Main article: Joey Ten (EP)
The EP was released on 29th January, 2010. For the EP, Joey has shot 10 looks to present 10 different kinds of Joey as a diva (9 of them were released, while one has used in Joey Yung Perfect 10 Live 2009 and the live products) (For more details about each look, see here).
For the songs, Joey has recorded five new songs while the song "Just For You" is adapted from a same-titled song by Roman Tam.
On 12th Feruary, 2010, the final edition of the EP released with ten stickers and more music videos included.
Limited Edition Boxset
| | | |
| --- | --- | --- |
| " | JoeyTen 10th Anniversary Project is a roundup of Joey Yung's entertainment career over the past decade. This box set is a limited edition dedicated to every moment to be treasured, to all music that gives voice. This collection of memories is dedicated to every one of her fans, friends and loved ones, who have been so supportive. This precious box is dedicated to her own self, for she was such a proud flower. | " |
Besides the EP, a limited editon boxset edition of 2,000 copies worldwide released. It includes:
The Joey Ten EP with bonus DVD;
200 pages of Treasure The Moments commemorative book;
80 pages of Kaleidoscopic Joey photo album;
Joey Ten comic book;
A thank you card, 2 stickers and a poster;
The Chofy bookmark;
The 4GB Chofy USB. (Buyers would get either a pink or white version of the USB.)
Community content is available under
CC-BY-SA
unless otherwise noted.