In Motion 是容祖兒的第十三張個人廣東專輯,於2008年9月1日發行。"In Motion"喻意祖兒仍於音樂路上努力尋求突破前進,所以祖兒的歌曲在此碟中亦嘗試了不同風格,亦首次全碟由王雙駿監製。當中《跑步機上》一曲在年尾頒獎禮獲得多個獎項,皆因跟祖兒過往的風格有很大分別。這專輯的相片以祖兒潑不同顏色的油彩作主題,十分特別,更以單碟雙封面的包裝發行。其它派台歌,《與蝶同眠》和《愛怪物的你》亦大受歡迎,使專輯深入民心。
In Motion is Joey Yung's thirteenth cantonese studio album, released on 1st September, 2008. In Motion means Joey continues to find breakthrough of her music, so that she has tried some different song styles, as the whole album was produced by Carl Wong first time. The first plugged song, "On running machine" has gotten many awards because the style is different to her previous songs. The photos of the album show that Joey was pouring some paint, specially. The album was also released with double covers. Other plugged songs, "Sleeping with Butterflies" and "You who loves a Monster" are also welcomed by public, making the album famous.
Released versions
First edition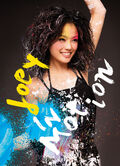 Released on 1st September, 2008;
Double covers;
Included a 70-page photo album.
Second edition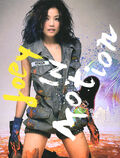 Released on 3rd October, 2008;
Included 20-page photo album, 2 pages of stickers and a bonus DVD of 3 music videos.
Mainland China edition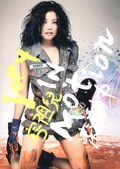 Certifications
Album
| | |
| --- | --- |
| In Motion | Platinum (> 30,000) |
Songs
For more awards received, please visit individual song page.
Images
Credits
Executive Producers: Ng Yu / Mani Fok
Marketinf & Media Planning: Douglas Chang / Ewin Lee
A & R: Leo Chan / Leong Shek Chi / Ronnie Ng / Liu Chi Wah
Artiste Promotion: Martin Cheng / Purple Ho / Sammy Fung / Maggie Tse / Kin So
Artiste Management: Mani Fok / Kitty Cheang / Ada Wong / Sandy Wai
Post-Production: James Lam / Carmen Wu / Teffia Tung

EEG Artiste Management Division (Tel: 2835 6688)
Art Direction: Tomas Chan
Jacket Design: Mun@3PCS / Benson@3PCS
Photography: Wing Shya
Hair Stylist: Billy Choi (Hair Culture)
Make-up Artist: Arris Law
Special thanks: Citizen, ..., Broadway Electronic
Community content is available under
CC-BY-SA
unless otherwise noted.