Asia Miles Presents: Hacken Lee & Joey Yung Live in Hong Kong 2015 (亞洲萬里通呈獻:容祖兒李克勤演唱會2015) is the first major concert together held by Joey Yung & Hacken Lee. The show, which will take place at the Hong Kong Coliseum, was held after the success of Joey Yung X Hacken Lee Music is Live Concert in 2004.
Background
Joey first cooperated with Hacken back in 2004, in a Music is Live concert held by the Commercial Radio. During the concert, they performed their first duet, "Cannot Delay", to the audience. Later the studio version and the accompanying music video were released in their individual albums. The song received great response from the public, and became one of the classic duet love songs in Hong Kong. Eleven years later, they continued this group project and decided to held a larger concert in Hong Kong Coliseum.
Development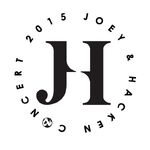 Joey first hinted the cooperation back in 2014, during a radio interview. In February 2015, the two set up a official Facebook page, so as to make annoucements and promote the concert[1]. They posted a video online and asked fans about the naming of the show. Since then, regular updates on meetings and rehearsals were posted there. The poster shooting sessoin was held on the April 26, 2015[2].
In May 2015, the official poster surfaced after the leak from an illegal concert tickets selling group[3]. Thus that group was taken off from Internet and was sued by Emperor Entertainment Group and Entertainment Impact. Hacken responded by feeling shocked and disappointed, plus would take better protection to the second poster. Joey responded by understanding the excitement from supporters, but she hoped everyone would buy tickets from reliable and official sources[4].
After the tickets went on sale, the public's response was too great and they announced three additional shows the next day. However, all tickets were still sold out swiftly. After much discussion, they eventually added one last final show in early August.
Promotion
Posters
Behind the Scenes
Videos
References
Community content is available under
CC-BY-SA
unless otherwise noted.