Glow是容祖兒的第十二張個人廣東專輯,於2007年11月1日發行,亦是Johnnie Walker Keep Walking StarLight Joey Yung Live 08的主題大碟。首支主打歌"逃"更為祖兒開創了歌曲和跳舞上的新發展,只因祖兒於多個公開表演中,都表演了傾斜45度,十分出乎意料,亦鞏固了祖兒更跳舞上的發展。祖兒更透露StarLight Joey Yung Live 08更是圍繞這歌去作構思。其它主打歌曲,"零時零分"、"陪我長大"亦很受大眾歡迎。
Glow is Joey Yung's twelfth personal cantonese studio album, released on 1st November, 2007, also was Johnnie Walker Keep Walking StarLight Joey Yung Live 08 's theme album. First plugged song, "Runaway" also lets Joey got new development on singing and dancing. When Joey performed this song in public, she would perform with 45 degree tilt, this amazed people and steady Joey's dancing development. Joey also revealed that StarLight Joey Yung Live 08 was made around this song. Other plugged songs, "Dawn" and "Grow Up with Me" were also welcomed by public.







Released version
First edition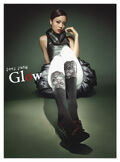 Released with a CD and a bonus DVD;
DVD included 2 music videos.
Bonus DVD
TRACK LIST
TITLE
LENGTH
1.
"逃 Runaway" (Music Video)
03:51
2.
"零時零分 Dawn" (Live Music Video)
03:44
Joey Yung Wiki
Mainland China edition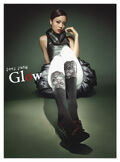 Reissued edition

Released on December 23, 2013;
Only tracks from original CD included.
Certifications
Album
Songs
For more awards received, please visit individual song page.
Images
Credits
Executive Producer: Ng Yu/ Johnson Lam


Marketing & Media Planning: Douglas Chang/ Ewin Lee
A & R: Leo Chan/ Leong Shek Chi/ Ronnie Ng/ Liu Chi Wah
Artiste Promotion: Martin Cheng/ Purple Ho/ Sammy Fung/ Maggie Tse/ So Kin Pong
Artistie Management: Mani Fok/ Kitty Cheang/ Sally Lum/ Fontane Sit/ Sandy Wai
Post-Production: James Lam/ Carmen Wu/ Teffia Tung
EEG Artiste Management Division (Tel: 2835 6688)


CD Mastering: Franke Hung at Air Studio


Album concept: Joey Yung
Art Direction: Tse Chui Yan
Graphic Design: F.A.
Illustration: Nakazi
Photography: Harlim
Stylist: Tomas Chan
Hair Stylist: Billy Choi (Hair Culture)
Make-up Artist: Arris Law
Special Thanks: Boardway Electronics/ Fujifilm/ MTR

Community content is available under
CC-BY-SA
unless otherwise noted.