"Gemini" (雙子情歌) is a Cantonese song originally performed by Adason Lo in 2012. In late November, it was announced that a duet version of the song with Joey Yung has completed[1]. This version was then plugged to radio. Joey revealed that she appreciated his voice much, in addition to both of them are Gemini, she decided to record the vocal for duet.
Music Video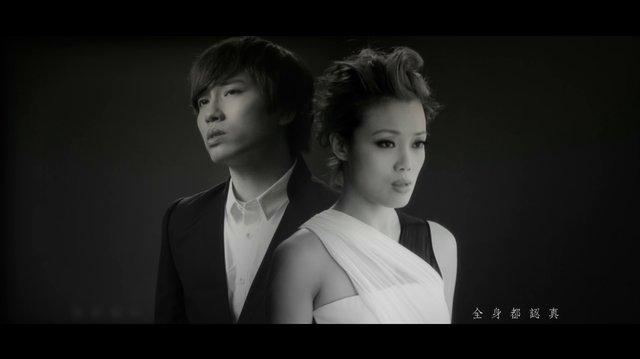 Credits
Directed and Edited by: Eddie.YO
MV Production by: TO BE EDITED VISUALS
Director of photography by: Alfred Pang@PMC studio
Lighting by: Tim / Kwok / Lui
Lyrics
A - Adason Lo  · J - Joey Yung  · D - Duet
A:我驚你 J:我愛你 A:我憎你 J:我愛你
A:避開你 J:我愛你 隨時樂極化悲
A:太高興 J:太洩氣 
A:是我聽了亦很生氣 D:反覆得的確沒道理

A:這分鐘 J:有了你 A:下分鐘 J:怕了你
A;就算講 J:最愛你 其實與 哪個比
A:哪一個 J:最似你
A:願你相信我這心理 D:真心得不免像做戲

*D:別讓我離開 A:成熟後便會改 J:誰人又令我改
A:博愛因 D:尊重愛 愛我就像坐過山車看海

A:虔誠地多心 J:人們為何叫花心
A:聽新聞聽出義憤 J:同時和諧的接吻
D:還請忍耐我 兩個我隨時又遠又親
身份得一個從未夠分

J:人純情才易分心 A:人無情才算花心
J:理智得多麼肉緊 A:纏綿時慈悲眾生
D:還請體諒我 兩個我無論在鬥在爭
思想雖分裂能被抱緊(全身都認真)*

A:喜歡說 J:我愛你 A:我喜歡 J:哪個你
A:害怕她 J:也似你 D:誰願意 作對比
A:要爭氣 J:要放棄 
A:亂了分寸又 D:哪只你 真心不想再待薄你

Repeat *

J:遊魂時同樣忠心(A:未算野心)
A:忠於兜轉的內心(J:分分鐘也動心)
D:能否看住我 J:我愛你同時像愛著她(A:纏綿時纏著各種化身)
J:對她的感覺融匯你身(A:只想喜歡你毫無疑問)

J:情人們全是雙子 A:虔誠時才會傷心
J:聖潔的只敢動心 A:纏綿時遐想眾生
D:能否體諒我 懶理我何時別有用心
J:那麼多的我留在你手(A:留在我手)
D:全身都認真
Commercial release
Due to the debut of the duet version, a special edition EP was exclusively released on iTunes[2], including 3 tracks and an interview from Joey.

TRACK LIST
TITLE
LENGTH
1.
"雙子情歌 Gemini" (Duet)
04:00
2.
"雙子情歌 Gemini" (Solo)
03:55
3.
"雙子情歌 Gemini" (Instrumental)
04:00
4.
"當祖兒遇上LLV"  
03:30
Joey Yung Wiki
Certifications
Charts
| Song | Approx. Date | 903 | RTHK | 997 | TVB |
| --- | --- | --- | --- | --- | --- |
| 雙子情歌 Gemini (w/ Adason Lo) | 21/11/2012 | 1 | 3 | 2 | 2 |
Awards
2013 JSG 1st Round Election - Best Songs Award
JSG Awards 2013 - Jade Solid Gold Best Twenty Songs - 3rd
Publishing
OP: EEG Music Publishing Limited / Denseline Co., Ltd. admin by EMI Music Publishing Hong Kong
References
Community content is available under
CC-BY-SA
unless otherwise noted.