"For You" (給你) is the tenth track of Joey Yung's seventh Mandarin album, Moment. The song was written for her fans.
In 2010, Joey met Kay Huang in a rehearsal room, Joey appreciated her for a long time, so she invited her to write a song for her. After two years, Kay wrote this song to Joey, with "beautiful melody, a warm feeling and the power to touch people's heart". Joey said the song reminded her of the ups and downs in her career, but still, she remembered each fans' face, who support her for a long time.
Music Video
The video, directed by Heison Ng@START24, contains of behind-the-scenes footage of "Right Time" and "Smoke and Mirrors" videos, some on-stage performance for Moment, released on October 19, 2012.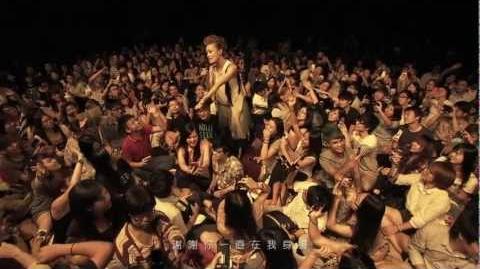 Lyrics
現在的你過的還好嗎
還保留當時的夢嗎
臉上帶著微笑嗎

那些幸福的想法 如果需要回答
別躲在角落 讓快樂停止喧嘩

望著流逝的時光 成長需要勇氣
難捨難分的別離 只是嘆息

唱著歌 流著淚 我們都曾經為愛心碎
笑著面對 告別了昨天 謝謝你一直在我身邊
我們都值得更好的明天 這個世界 因你而完美

回不去的 就該往前走
帶不走的 就放手吧
就算委屈也微笑著

也許生命的變化 不過一念之差
我不再害怕 讓悲傷慢慢融化

望著流逝的時光 成長需要勇氣
難捨難分的別離 只是嘆息

唱著歌 流著淚 我們都曾經為愛心碎
笑著面對 告別了昨天 謝謝你一直在我身邊
我們都值得更好的明天 這個世界 因你而完美

唱著歌 想著誰 人都要學會放心去飛
朦朧之間 要勇敢的跨越
拉扯在 夢與現實兩邊
我們用愛通過了考驗
這個世界 因你而完美
Music & Personnel
Strings Arrangement: 鍾興民 Baby-C
Strings recording studio: 李岳松 Yue Song Li
Strings recording studio: 中央電影製片廠音樂錄音棚 China Central News and Documentary Film Studio
Strings: 中國愛樂樂團 China Philharmonic Orchestra
Cello solo: 關正躍 Cheng Yueh Kuan
Production coordinator: 毛新光 Xin Guang Mao
Music score manager: 林盼 Pan Lin
Background vocal arrangement: 黃韻玲 Kay Huang
Background vocalist: 黃韻玲 Kay Huang
Background vocal recording studio: 19 號房 Room 19 Studio
Mixing engineer: 李岳松 Yue Song Li
Mixing studio: 聲舞者錄音室 Sound Dancer Studio
Publishing
OP: 果核有限公司 SP: EMI Music Publishing Hong Kong