"Excuse Me, I Love You" (不好意思我愛你) is the eighth track and one of the promotional single of Joey Yung's seventh Mandarin album, Moment. The promotional version has a slightly different instrumental arrangement to the album version.
"
"I Love You" is a simple three-word sentence, but that's hard for everyone to speak it out. Confession, could be a start of a love trip, could also be an end of a friendship. The moment you are telling the truth, is like betting in a game even don't know it will win or not. No matter what the result is, no matter how much I felt perturbed, I would still tell the truth to the one I loved, not letting myself to regret.
"

—Joey Yung, 2012
Music Video
The video was shot in September 2012. Directed by Heison Ng@START24.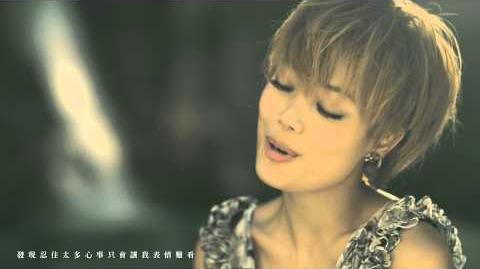 Lyrics
發現每次碰到你的目光越來越要膽量
聊天都不再流暢
怎麼辦 眼看著 率性的我不再坦蕩
連自信都走樣

愛要開開心心 快樂得那麼辛苦 早晚會受傷
不能讓你繼續冷眼旁觀
就算是我不自量

*忽然之間對你說愛你 那又怎麼樣
直接了當的兩種結果 有甚麼好緊張
如果讓你為難 我寧可換來失望
大不了光明正大用朋友的方式來往
不好意思我就是愛你 我需要釋放
明明白白告訴你答案 不用胡思亂想
感情值得分享 不應該變成負擔
不願意為了害怕失去你就對你說謊*

發現忍住太多心事只會讓我表情難看
只因在乎你怎看
喜歡你 卻讓我 不喜歡自己的模樣
快扭曲到腐爛

不確定的浪漫 只落得漫長的孤單 無謂的計算
躲在一旁暗戀這個遊戲 不值得我們再玩

Repeat * (不說謊x3)

不想曖昧只想要愛你 不然還能怎樣
正常不過的一種心情 有甚麼好緊張
盡管讓你為難 我也已經憋得慌
大不了不再來往至少傷心傷得大方
不好意思我就是愛你 我需要釋放
明明白白告訴你答案 不用胡思亂想
或許有些真相 身不由己要隱瞞
愛是如此美好的事情又何苦要說謊
Music

Arrangement, piano, programming: Gary Tong, recorded at: Midi-on Studio
Mandarin dialect coach: 胡蓓蔚
Guitars: Joey Tang
Drums: Davy Chan
Backing vocals: Snail Yip
Strings arrangement: Daniel Ling
First violin: 張毅, 李葉波, 林淋, 方海燕, 易岸兮, 李椰菁, 李磊, 郝寶珠
Second violin: 謝林, 郭慧, 張趏襗, 陳苗苗, 羅箐, 褚亞娟
Viola: 葉凱英, 錢宇韋, 陳小梅, 吳莽
Cello: 高志堅, 馬瑜, 葉輝, 干萍
Double Bass: 刑守強, 孟梁

Personnel

Strings engineered by: 張洪軍, assisted by: 肖健, 區家俊, recorded at: The Village Studios, Guangzhou
Strings recording co-ordination by: Stanley Leung
Drums recorded at: aroom studio, engineered by: Ken Au
Engineered, mixing and digital editing by: Amic Tang, Avon Recording Studios

Publishing

OP: Passport Publishing admin by EMI Music Publishing Hong Kong / EMI Music Publishing (S.E. Asia) Ltd., Taiwan Branch
SP: EMI Music Publishing Hong Kong
Community content is available under
CC-BY-SA
unless otherwise noted.