Bi-Heart是容祖兒的第九張個人廣東專輯,於2005年8月18日發行。大碟主題是指"雙子座的心情"。大碟派台歌曲有"越唱越強"、"天之驕女"和"好事多為"。當中"好事多為"為Sony Ericsson Reflection of Joey's Live 2005的主題曲,所以特意將歌曲送往韓國重新編曲,以Reflection Mix版派台。
Bi-Heart is Joey Yung's ninth personal cantonese album, releaed on 18th August, 2005. The name of the album means "Gemini's heart". Plugged songs of the album included "Sing More and Stronger", "The Girl Favored by Heaven" and "Pointless Doing". And "Pointless Doing" was Sony Ericsson Reflection of Joey's Live 2005's theme song, so the song was sent to Korea for a remix, and plugged as Reflecton Mix.





Released versions
Frist edition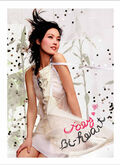 CD, coupons, Fortune Nofrozic Strawberry Mint, and notebook-like photo album included.
Second edition (加場慶功版)
Released on 13th October. 2005;
As a celebration of the shows addition of Reflection concert;
Different cover, same as the concert poster;
Bonus DVD plus the first edition album.
DVD included the "Pointless Doing" (Reflection Mix) Music Video and 3 more MVs.
Reissued version

Released on November 6, 2013;
Only included 20 tracks.
Certifications
Album
| | |
| --- | --- |
| Bi-Heart | Platinum (> 50,000) |
Songs
For more awards received, please visit individual song page.
Images
Credits
Executive Producer: Ng Yu / Johnson Lam
A&R: Leo Chan / Leong Shek Chi / Ronnie Lau / Kwan Lee Sum
Marketing & Media Planning: Roy 2 / Ewin Lee
Artiste Promotion: (radio) Larry Lau / Leung Ka Ho (TV) Raymond Ho / Sammy Fung (Press) Purple Ho
Artiste Management: Mani Fok, Oscar Cheung, Ada Wong, Sandy Wai
CD Mastering: Anthony Yeung at Air Studio
Creative & Post Production: James Lam, Carmen Wu, Wing Hung
EEG Management Division: (+852) 2835 6688
Art Direction: Matt (Graphix Red)
Photography: CK
Styling: Adele Leung
Hair Styling: Billy Choi (Hair Culture)
Makeup: Arris Law
Location by: Courtesy of Chemiji and The Civern
Special Thanks to: Fortune Pharmacal Co., Ltd., Hong Kong Maxim's Mooncake, 老行家, 四洲集團, ~H2O+, Bonluxe Lingerie, DTC Forevermark, Sony Ericsson, Society for Protection of the Habour, Okashi Land, ZTAMPZ
Community content is available under
CC-BY-SA
unless otherwise noted.