A Time For Us 是容祖兒的第十四張個人廣東專輯,於2009年4月30日發行。祖兒透露她原本計劃發行一張EP,可是她的唱片公司希望推出大碟,而且推出EP或大碟的所需宣傳費一樣,所以最後這專輯由3月延遲至4月才能推出。當中主打"搜神記"更於各大頒獎典禮奪得很多獎項。其他碟內主打"可歌可泣"、"我所知的兩三事"亦廣受歡迎。
A Time For Us is Joey Yung's fourteenth personal cantonese studio album, released on 30th April, 2009. Joey revealed that she was going to release an EP originally. However, her label was hoping for an album as the promotional fee was the same of an album or an EP, so this album was delayed. The second plugged song of the album, "In Search of the Deities", is very hit and got many awards. Other plugged songs, "Can Sing Can Cry" and "Couple Things that I Know" was also well-known, since they were both TV commercial theme songs.







Released versions
First edition
Released with 56 pages of photo album;
Included a Mioggi skin care package gift;
A DVD of the music video of "Can Sing Can Cry".
Second edition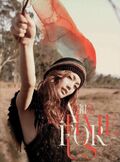 Released on 5th June, 2009;
A different cover;
The bonus DVD included 5 more music videos.
Malaysian edition
Released on June 10th, 2009;
Included first edition's cover and tracks, except DVD.
Mainland China edition
Released in 2009.
Renamed as "我們的時光".
Included first edition's cover and tracks, except DVD.
Certifications
Album
| | |
| --- | --- |
| A Time For Us | Platinum (> 30,000) |
Songs
For more awards received, please visit individual song page.
Images
Credits
Executive Producers: Ng Yu/ Mani Fok
Marketing & Media Planning: Douglas Chang
A&R: Leong Shek Chi/ Ronnie Ng/ Liu Chi Wah
Artiste Promotion: Martin Cheng/ Purple Ho/ Sammy Fung/ Maggie Tse/ Kin So
Artiste Management: Mani Fok/ Kitty Cheang/ Ada Wong/ Sandy Wai
Post-production: James Lam/ Teffia Tung
Community content is available under
CC-BY-SA
unless otherwise noted.