空港是容祖兒自2010年聲帶受損事件後的第一張EP,亦是她個人的第四張廣東EP,於2010年8月20日發行。這EP也是祖兒第六次次於紅磡香港體育館的個人演唱會,Nokia Joey Yung Concert Number 6 的主題大碟,歌曲"空港"亦是這次演唱會的主題曲。"空港"是一句日語,代表機場的意思,祖兒說愛她的人就像她的"空港"和"燈塔",在她迷惘時讓她安全"降落"。而歌曲"破相"則是陳輝陽與黃偉文合作的「垃圾系列」第四部曲,祖兒深情的演釋使這歌十分受歡迎,祖兒更為此歌拍了首個個人3D MV,亦是全香港第一首3D MV,使她成為全亞洲首位拍攝3D MV的女歌手。而碟內首支派台歌"綠野仙踪",由陳奐仁作曲,是百老匯的廣告歌,亦大受歡迎。
Airport is Joey Yung's first EP since her vocal cord was hurted, also is her fourth personal cantonese EP, released on 20th August, 2010. This EP is also the theme album of Joey's sixth personal concert, Nokia Joey Yung Concert Number 6, which was held in Hong Kong Coliseum, the song "Airport" is also the theme song of the concert. Joey said people who love her is like her "airport" and "lighthuse", which give her places to "land" when she is lost. The song "Disfigured" is the fourth song of Keith Chan and Wyman Wong's "Rubbish" project and it became famous because of Joey's good expression in the song. This song has also filmed Joey's first 3D MV, which is the first ever 3D MV in Hong Kong, and Joey became the first female singer who has a 3D MV. And the first plugged song, "Wizard of Oz", which is composed by Hanjin Chan, a Boardway commercial song, is also well-known.
Released versions
First edition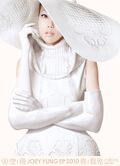 Similar packing of Joey Ten (first edition);
3 stickers and advertisement of Number 6 included;
Bonus DVD of 2 music videos included.
One2free special edition
People who joined One2free would get this version.
A ticket of One2free Musicholic 容祖兒空港見面會 also given.
Different cover.
Same content of the EP plus a cardsleeve.
Second edition

Released on 5th November, 2010;
2 stickers, a mini poster and a Chofy thankyou card included;
Different cover and packing.
The bonus DVD included:

2 more music videos and 5 making of.
One2free Musicholic 容祖兒空港見面會 Live
"Airport" 5.1 Surround Version (Bonus track)
Certificatons
Album
| | |
| --- | --- |
| Airport | Double Platinum (> 30,000) |
Songs
For more awards received, please visit individual song page.
Images
Credits
Community content is available under
CC-BY-SA
unless otherwise noted.