我的驕傲 是容祖兒最有名的專輯之一,於2003年3月25日發行。當中主打歌曲《我的驕傲》於2003年SARS期間在香港大受歡迎,成為祖兒最有名的一首歌,亦獲得多個獎項。當中歌詞振奮人心,亦是勵志歌中的佼佼者。而碟內其他著名歌曲著名情歌《習慣失戀》、《心淡》和向羅文致敬的《最後一課》。
My Pride is one of Joey Yung's most famous album, released on 25th March, 2003. The same-titled song "My Pride", encouraged people in Hong Kong during the period of SARS in 2003, causing it to have great success and got many awards. The song is still well-known until now. Other famous songs in the album, including the classic love songs, "Get used to Breakup", "Disheartened" and the song dedicated to Roman Tam, "The Last Lesson". Apart from these hits, Joey also tried some new genre songs, like rapping in "Wondering", and club, dancing songs, like "Head over Heels", "Honey!" and "Naughty".
Released versions
The album was mainly released in two editions in 2003. Due to its popularity and the unavailability in the market, her label reissued the album five years later.
First edition
Limited edition;
Gift Box design;
Included the album, a bonus VCD, 6 postcards and some coupons.
Bonus VCD
TRACK LIST
TITLE
LENGTH
1.
"我的驕傲 My Pride" (Music Video)
03:10
Joey Yung Wiki
Second edition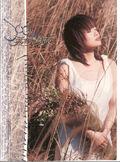 Released on 10th June, 2003;
AVCD Format;
Different packaging;
4 postcards and "

一首傳世之歌

" and "想得太遠" as bonus tracks.
Reissued version

Released on 19th February, 2008.
Same as the first edition, without the VCD.
SACD

Released on 18th July, 2014;
Same as the first edition, without the VCD;
Remastered to be in higher quality.
Certifications
Album
| | |
| --- | --- |
| My Pride | Platinum (> 58,000) |
IFPI Hong Kong Record Sales Awards

2003 - Top Ten Selling Cantonese Albums
Songs
For more awards received, please visit individual song page.
* represents staying in #1 for 2 weeks
Images
Credits
Executive Producers: Ng yu
Marketing & Media Planning: Lam Wai Hon
A&R: Leo Chan, Kwan Lee Sum
Artiste Promotion: (Radio) Michael Tsang / Ewin Lee / Larry Lau / (TV) Horace Wai / Roy 2
Artiste Management: James am / Carmen Wu / Maggie Mak
Art Direction and Design: Matt (graphix red)
Photography: CK Studio
Styling: Adele Leung (ii productions)
Hair: Boffy Cheung
Makeup: Ricky Lau
Illustrated top on cover customized by: Vanessa Chan
Back cover Artwork: Joey Lam
CD Mastering: 楊我華 at ____ Studio, assisted by Maggie Shum
Special Thanks to: Mitsubishi Motors, Colt, Nikon, NWMobile, Neway, Red Box, Banyan Garden