很忙是容祖兒的第六張個人國語專輯,於2009年8月14日發行,亦是祖兒十周年計劃的其中一張專輯。在這次專輯中,祖兒特意和數位著名音樂人首次合作,包括由台灣歌手林俊傑作曲的"這就是愛嗎?",和由著名內地歌手韓紅所作曲的"永遠的愛人"。在專輯正式發行前,祖兒於七月於"Joey Yung Moov Live 2009"首次唱出碟內部份歌曲,而現場錄影和錄音亦收錄於專輯的DVD內。
Very Busy is Joey Yung's sixth personal Mandarin album, released on 14th August, 2009, also one of the albums for JoeyTen 10th Anniversary Project. For the album Joey collaborated with a number of famous Mandopop musicians that she has never worked with before. The lead single "Is this Love?" was written by popular Singapore singer-songwriter JJ Lin, while the song "Forever Lover" was written by the famous Mainland Chinese singer Han Hong. Before the album was released ,eight out of the ten songs were performed (and heard for the first time) live in July at Joey's first MOOV Live Session (a series of concerts organized by Hong Kong's largest online music store), "Joey Yung Moov Live 2009".




Released versions
First edition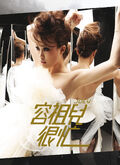 Includes trial certificate of Moov.com;
Recording of Joey Yung Moov Live 2009, making-of, plus 4 music videos included in DVD
Mainland China edition
Certifications
Album
| | |
| --- | --- |
| Very Busy | Gold (> 15,000) |
Songs
Images
Credits
Executive Director: Ng Yu
Director: Mani Fok
Marketing and Promoting Director: Ivy Lin
Marketing & Media Planning: Douglas Chang
Artiste Promotion: Martin Cheng/ Purplr Ho/ Sammy Fung/ Maggie Tse/ Kin So
Artiste Management Department: Mani Fok/ Kitty Cheang/ Ada Wong/ Sandy Wai
Digital Entertainment Department: Ian Yung/ Irene Chung
Creative & Post-Production: James Lam/ Teffia Tung

Photography: Wing Shya@ Shya la la
Art Direction and Image Styling: Tomas Chan
Make Up: Arris Law
Hair Styling: Billy Choi (Hair Culture)
Music Videos: PTU
Graphic Design: Ivan@模擬城市
Regional Marketing Promotion Department: Ruby Chan
A&R Department: Leong Shek Chi / Ronnie Ng / Liu Chi Wah
Mastering Producer: 舒文@Zoo Music Studio
Mastering Enginner: 錄文 & 宋嘉恆@Zoo Music Studio
Special Thanks: Broadway Electronic, Mioggi, Moov, Y.CMD, Harmonie
Community content is available under
CC-BY-SA
unless otherwise noted.