小小是容祖兒的第五張個人國語專輯,於2007年7月6日發行。專輯全亞洲共發行五千張精裝限量版。而專輯取名《小小》是希望能引領歌迷重返兒時的小小世界、小小夢想作為成長動力。當中主打同名歌曲《小小》更是首次邀請到台灣著名唱作歌手周杰倫作曲,大受歡迎。
Little is Joey Yung's fifth personal Mandarin album, released on 6th May, 2007. This album was released to 5000 copies in whole Asia. The album, named "Little" is hoping to lead the fans to return to Joey's childhood little world, little dreams as the growth momentum. The same-titled song in the album, "Little", was composed by the famous Taiwanese singer, Jay Chou. It marked his first collaboration with Joey and was welcomed by general public.
Released versions
First edition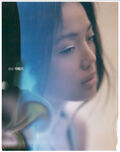 Released on 6th May, 2007;
Was limited to 5000 copies in the whole Asia;
Included a bonus DVD of 3 music videos.
Malaysian Limited edition

Released on July 2007;
Used a special "candy" package, included:

A Little CD with Joey's singature;
A cell phone holder;
A note book/diary;
A Pen.
Mainland China edition
Released in 2007;
A smaller package than the first edition.
Certifications
Album
Songs
| Song | Approx. Date | 903 | RTHK | 997 | TVB |
| --- | --- | --- | --- | --- | --- |
| 小小 Little | 16/06/2007 | 18 | 2 | 2 | 7 |
Images
Credits
Executive Director: Ng Yu
Executive Producer: Johnson Lam
A&R Project Director: Ivy Lin
A&R Coordinator: Ivy Lin & Hans Lee
Mastering Producer: Schumann
Mastering Engineer (Studio): Ryan Smith (Sterling Sound, New York)
Photography: Wing Shya@Shya-la-la
Art Direction and Image Styling: Sean Kunjamby
Graphic Design: Pen@nightimer.org
Album Cover Make Up: Arris Law
Album Cover Hair Styling: Billy Choi (Hair Culture)
Copy Writer: Sting Chang
Regional Marketing Department (EEG HK): Ruby Chan / Elaine Yeung
A&R Department: Leo Chan / Leong Shek Chi / Ronnie Ng / Liu Chi Wah
Marketing & Media Planning (EEG HK): Douglas Chang / Ewin Lee
Artiste Promotion (EEG HK): (Radio) Martin Cheng / So Kin Pong / (TV) Sammy Fung / Maggie Tse / (Press) Purple Ho
Artiste Management Department (EEG HK): Mani Fok / Oscar Cheung / Sally Lum / Sandy Wai
New Media Department (EEG HK): Ian Yung / Irene Chung
Post-Production (EEG HK): James Lam / Carmen Wu / Teffia Tung